All in One Voice is a game that was played only twice on the American edition of Whose Line.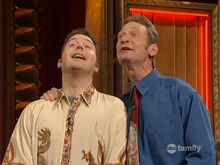 A musical game for all four performers, two of which are on a team. Each team is a member of a famous couple, such as Miss Piggy and Kermit the Frog. Each team sings simultaneously, as if they were one person. This requires the performers to not only sing together but to make up a song on the spot and be so in touch with what the others are thinking with visual cues, rhyme schemes, etc. that everybody stays in step. Consequently, the songs tend to be sung very deliberately. It's similar to the musical portion of Funeral in that fashion. The game begins with an audience-suggested title, usually filling in the blank in a pre-decided title.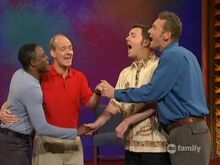 See also
Community content is available under
CC-BY-SA
unless otherwise noted.