Jurassic World: Dominion Dominates Fandom Wikis - The Loop
Play Sound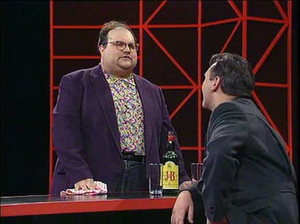 Bartender (also known as Bar Scene, Barroom Scene, or Bar) is a game that played on the British and (briefly) American editions of Whose Line.
Much in the manner of Psychiatrist and Prison Visitor, the game consisted of a series of vignettes in which the "customer" would sing his or her problems to the bartender (usually Mike McShane or Chip Esten), who would sing advice back. While some renditions of this game involved the songs being "set in different countries", it was generally more free-form.
The game provided several key moments in the British series. One of these was the suggestion from the audience that Ryan Stiles (wearing a garish yellow and red checked shirt) was "angry about his wardrobe". Ryan's "hurt" reaction prompted Mike as the bartender to tell the audience "don't mess with the neon love chicken!" The most famous, however, was Tony Slattery's appearance "in love with something". The initial suggestion of "himself" had Tony asking for a better one, at which point the suggestion of "An inflatable pig" was made. This prompted Tony's immortal song beginning "I've got a problem I'd like to report/When I see Porky Pig, my pants distort". One memorable moment on the American version was Drew Carey said "Something Wayne is excited about" and the suggestion was Brad which prompted them kiss, and after they won the most points they said "maybe we should fall in love more often," after which they looked at each other in romantic ways.
Trivia
Chip Esten has played the role of Bartender more than any other performer with seven scenes, just beating out Mike McShane's five.
See also