Brad Sherwood appeared on both the British and American editions of Whose Line.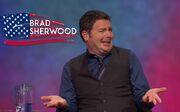 While his British appearances were largely inconsequential, it was his American work - often singing with partner-in-crime Wayne Brady - for which he should be remembered. Brad was also a talented, if underused, verbal comedian. He is 6 foot 4 inches tall.
A larger-than-life personality, Brad threw himself wholeheartedly into his musical impressions, which ranged from Bruce Springsteen to "The Guy From The B52's" (Fred Schneider). Perhaps his two greatest moments as a singer came in Greatest Hits games, screaming "You can't say 'nuts' unless you're talking about the kind you eat" as Angus Young of AC/DC and providing a straight-faced backup to the lounge song "A Squirrel Chewed My Bag", even as he realised the double entendre in the title.
Brad's yeoman service to the show was also rendered in verbal comedy games, especially If You Know What I Mean and Two Line Vocabulary. In the former, he is responsible for the line "Nothing better than a two-hundred pound snatch", while the latter provided many moments of unbridled silliness as he tried to wring every last inch of meaning from a phrase like "What do you mean by that?"
Perhaps his most noticeable trait was that he was always having fun. Nowhere is this more visible than in his hosting duties in Millionaire Show about the bedroom, where he frequently finds his own Regis Philbin impression (to say nothing of the increasingly surreal questions and answers) too funny to continue with.
Brad's appearances (UK)
Series 4: Episodes 7, 12 and 13
Series 9: Episodes 6, 9, 10, 11, 12, 15 and 19
Series 10: Episodes 1, 5, 8, 9, 10 and 11

Brad's appearances (US)
US Season 1: 2, 4, 5, 6, 12, 18 and 19
US Season 2: 2, 7, 9, 14, 17, 18, 26, 30, 34, 35 and 37
US Season 3: 6, 18, 24, 25, 30 and 39
US Season 4: 7, 10, 15, 17, 20, 24, 27 and 28
US Season 5: 3, 4, 8, 11, 16, 18, 24, 27 and 31
US Season 6: 2
US Season 7: 1, 7, 15, 20 and 24
US Season 8: 3, 6, 10 11, 14, 15 and 19
US Season 10: 13 and 16
US Season 11: 7, 11, and 16
US Season 12: 11, 12