Dead Bodies (sometimes called Fainting Bodies) was a game played on both the British and American editions of Whose Line.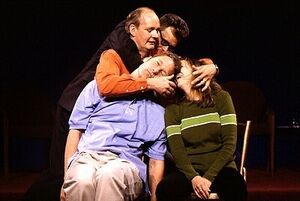 The premise of the game was that three of the performers or, on the American edition, a number of performers and a member of the audience, were performing a scene when most of them died - leaving one performer to continue the scene alone, moving the "dead bodies" as appropriate.
This game often saw Colin Mochrie as the "living" actor, and his manic talents were displayed to great effect, often by picking the other performers up and carrying them around the stage.
Appearances
UK Appearances
Series 8: 1 and 2
Series 9: 2

US Appearances
Season 1: 13
Season 3: 11
Season 7: 6
Season 8: 8 and 13
Season 11: 11, 15