Doo Wop is a musical game played on the American version of Whose Line.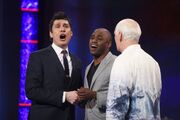 Doo Wop is kind of like a mixture between Motown Group and Funeral. The three performers sing their memories about someone who recently passed away. Drew Carey chooses a name and hobby from the audience for the topic of the song. One player sings a verse, while the other two do back-up.
Doo Wop is one of the very few games on Whose Line that Colin Mochrie plays more often than Ryan Stiles. Colin has sung in seven playings of the game, whilst Ryan only participated in two.
Though the premise usually is a eulogy of sorts, the first time it was played was a song titled "Do the Trucker". The topic used there was the same style that was used in Motown Group.
Appearances
Season 3: 25.
Season 4: 1 and 5.
Season 6: 1.
Season 7: 5, 8, 9
Season 8: 12
Season 10: 15 and 22
Season 11: 4, 12, 14, 19, 21, and 22
Season 12: 5, 11, 12, 16, 20, and 22
Season 14: 7, 9, and 12

See also