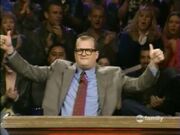 Drew Carey (born 23 May 1958) is an American television personality who hosted and produced the American edition of Whose Line Is It Anyway? from 1998 to 2007. He later hosted and co-produced other Whose Line spinoffs such as Drew Carey's Green Screen Show and Improv-A-Ganza.
A successful standup comedian and sitcom performer, Carey had an instant rapport with several cast members as they had worked together on The Drew Carey Show. As a result, he was frequently the butt of jokes about having two shows and being filthy rich (among other things, such as being overweight).
The major innovation of Drew's tenure as host was the feature of including the host in some games, traditionally the ones at the end of the episodes.
Drew's most important contribution to the show occurred off camera. The ABC executives did not want to cast Ryan or Colin, explaining that they were both too old to appeal to a younger audience. Furthermore Ryan was "gawky" and Colin balding. Carey successfully fought to include them. Fortunately, being the man behind one of ABC's most successful shows of the time (The Drew Carey Show), he had the clout to resist the suits.
Drew currently hosts the Legendary 'Price is Right' after Bob Barker's retirement in 2007.