Jurassic World: Dominion Dominates Fandom Wikis - The Loop
Play Sound
Greatest Hits was a game played on the British and American editions of Whose Line.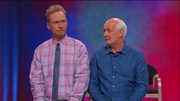 The game involved three or four performers (depending on the number of singers). Two performers - usually Colin Mochrie and Ryan Stiles - took the parts of television pitch-men selling a compilation album, with the singer or singers singing the relevant songs. The topic of the songs was decided by the audience, and the styles were read off of a cue card (so the musicians could prepare), but the titles were determined by the pitchmen.
The game, therefore, combined a great many talents. Colin and Ryan demonstrated their bantering ability (as in Home Shopping), with the singers effectively playing a series of Song Styles games. The often-overlooked dynamic was the ability of Colin and Ryan to come up with challenging song titles for the singers. Colin in particular would create many interesting titles, often causing Ryan to hide his laughter before the camera cut to the singers. Among them, "Ants, Rats and Gypsy Moths" for Songs of the Exterminator, and "Bowl Me, Strike Me, Spare Me" for Songs of Bowling. One memorable example was the demand on Wayne Brady to sing a country/western song with a sound effect for a title.
The game has also been known for the unique TV shows that the commercial interrupts, such as "The Wrong Emphasis Theatre Production of What's New? PUSSYCAT?!"
See: What Greatest Hits interrupts
Appearances
UK Appearances
Series 7: 10
Series 8: 12 and 13
Series 9: 3, 9, 18, and 19
Series 10: 1, 4, and 9

US Appearances
Trivia
In early playings,

Caroline Quentin

sat the game out, despite the fact that she participated in two Duets with Josie Lawrence.
In the UK and early US playings, the songs were quite short, as actual "snippets" of the songs. But as the series progressed, the songs got longer and longer. Due to this, the game originally included three to four songs. In later episodes, the game is played with just two.
Starting in Season 13, in tapings that involved Greg Proops; Greg would become Colin's pitchman partner, while Ryan Stiles would be promoted to Wayne Brady's singing partner.
See also