If You Know What I Mean is a game played on the American edition of Whose Line.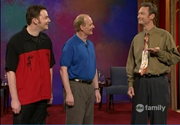 The game traditionally involved Brad Sherwood, Colin Mochrie and Ryan Stiles and was a straight scene-improvisation game (with the scene being partly dictated by the audience). The structure was that the performers had to use as many "obscure clichés and euphemisms related to the scene" as they could, following them with the words "If you know what I mean" (or variants thereof).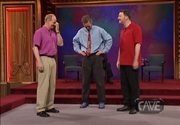 One famous rendition of this game took place in a sports locker room and featured Brad commenting "Nothing better than a two hundred pound snatch, if you know what I mean". The word "snatch" was uncensored for the first broadcast of the game, but got censored for all the rest. The scene ended soon after with the cast in fits of laughter. In the following dialogue about how appropriate the show was for children, Ryan announced "That'll never make it to air, If you know what I mean".
Appearances
Season 2: 7 and 37
Season 3: Episode 18
Season 4: 10 and 27
Season 5: 4, 18, 24, and 27
Season 7: Episode 7
Season 15: Episode 5