Irish Drinking Song was a game played on the American edition of Whose Line. Much like Hoedown, this was a singing game involving all four performers making up a song about a topic suggested by the audience.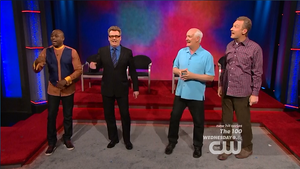 The structure of the song consisted of four verses of eight lines each, with each performer contributing two of them (the first and fifth lines, for example). The beginning and end - and also the "chorus" - was the Irish-accented "aye-dee-di-dee-di-dee-di-dee-di-dee-di-dee-di". The second verse would begin with the second performer in the line, and so on.

As the performers were responding to lines sung by people before them, the songs often veered off-topic in unusual ways. Ryan Stiles was able to carry his traditional ability of coming up with amusing lines at the end of verses.

The highlight of the game, however, was Colin Mochrie, who developed a line in surreal contributions arguably greater than his Hoedown work. After the particularly climactic final line to the Graduation Irish Drinking Song, "There's blood in my stool" (resulting in peals of laughter from the traditionally straight-faced Ryan), Colin was heard to comment "I shouldn't be the last person". This being a reference to his position of being third in the line and thus getting the absolute last line of the song.

One Drinking Song degenerated into complete chaos when Drew Carey mumbled most of his line, forcing Ryan to rhyme it in gibberish. Wayne Brady was unable to stop laughing, and soon neither were the rest of the performers except for Colin. Having previously won laughs with the line "meow", Colin gleefully repeated it as many times as he could be heard over the laughter.
Appearances
US Season 3: 1, 4, 6, 12, 20, 22
US Season 4: 4, 11, 17, 18
US Season 5: 5, 8, 11, 15, 20, 29, 31
US Season 6: 5, 10
US Season 7: 3, 4, 21
US Season 8: 10
US Season 10: 5, 8, 17
US Season 11: 14 and 22
US Season 14: 8

Off Show Appearances
The Arsenio Hall Show: 2014 Appearance
The Drew Carey Show: Drew Live II
Whose Line is it Anyway UK: Live at Adelphi

See also