Jurassic World: Dominion Dominates Fandom Wikis - The Loop
Play Sound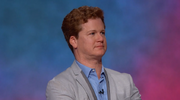 Jonathan Mangum (born 16 January 1971) is an American improv comedian who has been doing Improv acts in Los Angeles since 1995. He became a recurring performer on 'Whose Line is it Anyway?' in 2013.
Mangum has guest-starred on several television shows such as Reno 911!, Just Shoot Me!, Married with Kids, Clarissa Explains it All, and even NCIS. Throughout his career, he's appeared in hundreds of American commercials and holds writing credits for The Disney Channel and The N network — even writing for director Ben Rock.
Jonathan is known as Wayne Brady's comedy partner, touring together since 2000 and performing together since 1995. The two currently host the critically acclaimed and three time Emmy award winning show Let's Make A Deal.
Jonathan's road to Whose Line

Jonathan first started doing Improv at SAK theater in Orlando, performing alongside Wayne. In 1995, a group consisting of Wayne, Jonathan and 5 others moved out to Los Angeles and formed the group 'Housefull of Honkeys". In 1999, Jonathan auditioned for the second season of Whose Line, however the fourth-seater position was given to Kathy Greenwood.

Although not yet part of the show, Mangum continued to pursue a career in improv comedy; he was determined to leave his mark on the industry. In 2002, he locked himself a recurring role on the final two seasons of The Drew Carey Show. 2004 brought a new opportunity — Drew invited Jonathan to join his improv troop, "Drew Carey's Improv All-Stars," where he would go on to tour over 60 venues with the cast of Whose Line. Later that year Drew would create 'Drew Carey's Green Screen Show' on The WB where Jonathan became one of the featured players; unfortunately the show did not have a long run. Later in 2011 he would land a role as a rotating player on Drew Carey's Improvaganza and a starring role on the short lived show 'Trust us with Your Life'.
In 2013, 'Whose Line is it Anyway?" was set to return once again — this time to be televised on TheCW, originally for a limited summer run. The search was on for new fourth seaters to add to the show. Jonathan auditioned and landed himself the role. Whose Line returned in the summer of 2013, premiering to the highest network rating since September of 2011. [[1]]
Strong ratings would lead to a season renewal. Six years and six seasons later, with no signs of slowing down anytime soon, Jonathan is still an esteemed fourth seater.
Appearances on "Whose Line is it Anyway?
Trivia
Gallery
Coming Soon