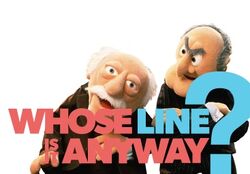 Muppet Mentions on Whose Line
UK Mentions
| Picture | Episode | Segment | Description |
| --- | --- | --- | --- |
| | Season 2 Episode 11 | American Musical | A Gag is compared to being very Muppet like |
| | Season 2 Episode 12 | Intro | Chris Langham is introduced as the "sometime muppet gag-master", a reference to the fact that he worked on the Muppet Show |
| | Season 4 Episode 10 | Film & Theatre Styles | Sam and Ryan do a part of the scene in the style of The Muppets |
| | Season 5 Episode 8 | Film & Theatre Styles | Ryan and Colin do a part of the scene in the style of Sesame Street |
| | Season 6 Episode 10 | Remote Control | Mike is Assigned to do the scene as 'The Muppet Show' |
| | Season 6 Episode 11 | Whose Line | "She's had more hands up her than the Muppets!" |
| | Season 8 Episode 6 | Film & Theatre Styles | Greg and Caroline are given the choice of doing the scene as The Muppets or Sesame Street. |
| | Season 8 Episode 10 | Film & Theatre Styles | Josie and Ryan do a portion of the scene as The Muppets. |
| | Season 9 Episode 7 | Film & Theatre Styles | George and Ryan do a portion of the scene in the style of Sesame Street. |
| | Season 9 Episode 8 | Props | "Good Morning! Welcome to the Adult Muppets" |
| | Season 9 Episode 11 | Film & Theatre Styles | Ryan and Colin do a portion as the scene as The Muppets; with Colin slipping into a Yogi Bear impression. |
| | Season 9 Episode 13 | Film & Theatre Styles | Ryan and Colin do a portion as the scene as The Muppets |
US Mentions
| Picture | Episode | Segment | Description |
| --- | --- | --- | --- |
| | US-104 | Let's Make A Date | Brad guesses Ryan was either a man with an alien coming out of him or Jim Henson |
| | US-113 | Film & Theatre Styles | Ryan & Greg act out part of the scene in the style of Sesame Street |
| | US-217 | Sound FX | "C'mon over here Big Bird!" |
| | US-309 | Props | "Today's Show is brought to you by the Number 8" |
| | US-327 | Props | "Big Bird and The Wife Passed Out!" |
| | US-401 | Props | "Animal! Animal!" |
| | US-415 | Credit Reading | "Animal! Animal!" |
Episode US-433 - Sesame Street References and Running Gag
The Running Gag is one big Sesame Street reference
| Picture | Episode | Segment | Description |
| --- | --- | --- | --- |
| | US-433 | Scenes From a Hat: If Lessons on Love and Sex were taught in the Style of Sesame Street | Wayne's 1st and 2nd Suggestion: "Abeirto", "Cerrado" |
| | US-433 | Scenes From a Hat: If Lessons on Love and Sex were taught in the Style of Sesame Street | Colin: "Now it's Time to Look at Big Bird" |
| | US-433 | Scenes From a Hat: If Lessons on Love and Sex were taught in the Style of Sesame Street | Kathy sings 'One of These Things' |
| | US-433 | Scenes From a Hat: If Lessons on Love and Sex were taught in the Style of Sesame Street | Ryan turns 'Letter of The Day' into a raunchy segment. "The Letter H!" |
| | US-433 | Scenes From a Hat: Jeopardy Categories where the Whose Line castmembers are the answer | "I'll take reasons why the Letter H will keep me up in the years to come" |
| | US-433 | Scenes From a Hat: Bad Things to say as you're about to Kiss Her | "I was once apart of the Letter H" |
| | US-433 | Hoedown | "Until I got fired for Making an H with Ryan" |
US Mentions Continued
| Picture | Episode | Segment | Description |
| --- | --- | --- | --- |
| | US-609 | All in One Voice | Brad & Ryan sing as Kermit, Wayne & Colin sing as Miss Piggy |
| | US-612 | Hats | Ryan dons a Kermit like mask |
| | US-345 | Props | "This Show is brought to you by The Letter O" |
| | US-348 | Commercial Return | "and Just like the Muppets, I've got someone's hand up my butt" |
| | US-314 | Film & Theatre Styles | Wayne, Colin, and Ryan act out part of the scene in the style of Sesame Street |
| | Season 7 Episode 9 | Song Titles | "Sing, Sing a Song" |
| | US-7016 | Scenes From a Hat: "Bad Songs to sing while making love" | Kathy sings Rubber Duckie |
| | US-7020 | Props | Ryan imitates Oscar The Grouch, Brad makes a Big Bird joke |
| | US-8004 | Props | "Cookie! I said Cookie!" |
| | US-9x12 | Scenes From a Hat: If Sesame Street characters appeared on different shows | Ryan as Big Bird on The Apprentice, Nyima as Cookie Monster on Hell's Kitchen, A Near & Far segment on Walking Dead, and Wayne as Elmo on The Game of Thrones. |
| | US-9x12 | Props | "Sesame Street was brought to you today, by the Letter C" |
| | US-10x02 | Props | "Oh My God, Poor Big Bird!" |
| | US-10x12 | Duet - Post Game | Robbie Amell goofs in Duet, sparking a counting running gag. Aisha does an impression of The Count |
| | US-10x12 | Scenes From a Hat: If Sesame Street were a Soap Opera | Wayne as a Drug Addicted Snuffy, The Count(Jeff) giving Bird Bird(Ryan) bad medical news, Colin and Wayne do a Near and Far Routine and Spanish segment joke, Ryan and Jeff tackle the sexualities of Ernie and Bert only to escalate to the rebirth of US-433's 'Letter H'; Wayne comes in to form a Capital H. |
| | US-10x12 | Scenes From a Hat | "I will never be a Capital H in a man's alphabet" |
| | US-10x16 | Props | Wayne and Colin do an impression of Big Bird and Snuffy |
| | US-10x16 | Scenes From a Hat: 'If famous TV shows had been performed in the nude' | "Sesame Street was brought to you by the Letter E" |
| | US-10x23 | Hollywood Director | Jonathan is assigned to do the scene as The Muppets; he does impressions of Beaker, Kermit, and Animal. |
| | US-11x09 | Scenes From a Hat: "The Dating videos of Sesame Street Character" | Jeff as The Count, Ryan references 'One of These Things', Jeff does a Spanish Segment, Ryan references The Letter of The Day, Ryan and Colin do an opposites lesson, Wayne comes in an does an alternative opposites lesson, and Jeff does an Impression of Snuffy. |
| | US-11x25 | Scenes From a Hat: If Famous TV Shows were performed by Drill Sergeants | Colin reenacts the Near and Far segment |
| | US-11x27 | Greatest Hits: Songs of Horror | Wayne and Jonathan do a song in the style of a Bob Dylan and Swedish Chef duet. |
| | US-11x28 | Props | "I saw the whole thing, the house just fell on Big Bird!" |
| | US-12x04 | Scenes From a Hat: "Bad Ways to Impress your Date" | "I was the inspiration for Mr. Snuffleupagus" |
| | US-12x11 | Props | "Wow! Big Bird really is Big!" |
| | US-12x11 | Greatest Hits: Songs of The Supermarket | Colin remarks that one of the songs reminds him of the Sesame Street song, "One of these Things" |
| | US-12x15 | Props | Colin and Wayne sing Mahna Mahna with their props, twice. |
| | US-13x01 | Scenes From a Hat: What Sesame Street Characters say during love making | Jeff as The Count, Wayne does a Near & Far segment, Colin makes a general Muppet joke, Jeff does a Spanish segment joke, Ryan & Wayne do a segment as Snuffy and Big Bird, Ryan does a Letter of The Day, and Wayne makes a Kermit and Miss Piggy joke. |
| | US-13x01 | Scenes From a Hat | Wayne references his Kermit and Miss Piggy joke twice more during the game |
| | US-13x02 | Scenes From a Hat: If Kids Television shows dealt with embarrassing problems | Wayne and Jonathan do a scene as Big Bird and Snuffy. Jonathan forgets what Big Bird sounds like |
| | US-13x02 | Scenes From a Hat: Things you wish were true | "This is What Big Bird sounds like!" |
| | US-14x09 | Props | "Welcome to the YouTube Muppets!" |
| | US-14x11 | Scenes From a Hat: TV Shows that shouldn't be performed in a Sexy Way | Wayne presents an Orgasmic Letter of The Day |
| | US-14x12 | Props | 3 Jokes are made about Big Bird |
| | US-15x04 | Weird Newscasters | Chip is Kermit The Frog after too many Coffee's |
| | US-15x10 | Greatest Hits | Jonathan's Bob Dylan goes awry in a Bob Dylan Duet, after the song Colin corrects that song was actually a Bob Dylan and Big Bird Duet. |
| | Season 15 Episode 11 | Hollywood Director | Part of the scene is done as The Muppets |
| | Season 15 Episode 15 | Greatest Hits | Gary and Wayne do a song in the style of The Muppets (Few Sesame Characters are thrown in) |
| | Season 15 Episode 19 | Let's Make A Date | Wayne is a series of Muppets turning Evil |
| | Season 16 Episode 3 | Scenes From a Hat | The guys act out "Characters that were rejected from Sesame Street" |
The Whose Line Connection: Muppets reference Whose Line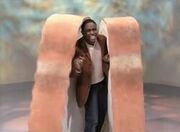 In Season 7 of The Muppet Babies, there is an episode titled "Whose Tale Is It, Anyway?"
In a 2003 appearance on Sesame Street, Elmo asks Wayne Brady to show between. Elmo encourages him, saying he's good at making things up on the spot.
Community content is available under
CC-BY-SA
unless otherwise noted.