Performers

Brad Sherwood, Wayne Brady, Colin Mochrie, Ryan Stiles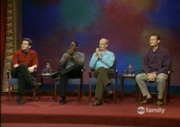 Introductions

"Look, the Bat signal," Brad Sherwood
"Holy fire escape," Wayne Brady
"To the batpoles!" Colin Mochrie
"If I could just...reach my..." Ryan Stiles
Clothing

Brad - shirt with red and black design
Wayne - gray shirt
Colin - light blue shirt
Ryan - dark purple shirt
Games
Let's Make a Date

Wayne - bachelorette
Brad - DRACULA WITH AN INSATIABLE APPETITE
Colin - DESPERATE MIDDLE-AGED HOUSEWIFE LOOKING TO SPICE UP HER LIFE
Ryan - HAVING A BIG FIGHT WITH HIS BOYFRIEND BACKSTAGE
Newsflash

Performers - Ryan in the field, Colin and Brad in the studio
On the green screen - elephant seals on the beach
Title Sequence

Performers - Wayne and Brad sing, Ryan and Colin mime
Sitcom - Hillary and Monica
Other title suggested - Mimi and Drew
Whose Line

Scene - An ugly hunchbacked Quasimodo, played by Ryan, has just rescued and taken to his bell tower the beautiful French gypsy girl, Esmerelda, played by Colin, as an angry mob forms outside.

Ryan's line 1 - "I had no idea you were inflatable."
Colin's line 1 - "Sorry, that's the beer talking."
Ryan's line 2 - "Let's get jiggy with it."
Colin's line 2 - "Drew Carey makes me hot."
Scenes From a Hat

Performers - Brad and Ryan on one side, Ryan and Colin on the other

-"The secret double lives of Whose Line cast members" - Brad, Colin
-"Posts you'll never see on a church bulletin board" - Brad, Ryan, Wayne
-"Hobbies of the stupid" - Ryan, Colin
-"America's least popular monuments" - Brad, Brad
-"Strange chants overheard while jumping rope" - Colin
-"What models say to each other as they pass on the runway" - Brad, Ryan, Wayne, Ryan, Colin
-"Documentary subjects you'll never see" - Brad
Hoedown

Performers - Wayne, Drew, Colin, Ryan
Subject - Probation officer (type of authority figure that you fear)
Reading the Credits

Performers - Wayne, Brad, Colin, Ryan
Style - two neighboring families arguing over the fence
Points
Let's Make a Date - 1,000 points a piece
Newsflash - 1,000 points
Whose Line - 1,000 points for Drew
Winner
Game Times
Let's Make a Date - (4:27)
Newsflash - (2:18)
Title Sequence - (0:48)
Whose Line - (2:44)
Scenes From a Hat - (3:15)
Hoedown - (1:26)
Recurring Themes
Points comparisons - "That's right, the points here are just for appearances only, just like my gym bag."
Drew Carey Show references - Drew comments on Ryan's character in Let's Make a Date: "A lot of people don't know that, but that's what, uh, Lewis and Oswald sound like when the cameras are off." Also, for Title Sequence someone in the audience can be heard suggesting "Mimi and Drew."
Clinton jokes - Title sequence is about Hillary and Monica
Trivial Observations
This episode is from the same taping as episode US-237.
Brad's first part sitting out of Hoedown on the US Series
Episode Quotables