Jurassic World: Dominion Dominates Fandom Wikis - The Loop
Play Sound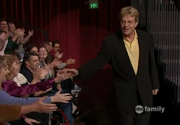 Introductions

"No shoes, no shirt, no service," Greg Proops
"Most credit cards accepted," Wayne Brady
"Deliveries in the rear," Colin Mochrie
"Closed by order of the health department," Ryan Stiles
Games
Make a Monster

Performers - Colin as Dr. Frankenstein, Greg as Igor, Ryan as Frankenstein's monster, Wayne as the bride of Franksenstein
Ryan - The head of Elvis, the legs of olympic skater Brian Boitano, the arms of a dirty old man
Wayne - The head of Mr. T, the legs of Fred Astaire, the arms of a Benihana chef
Dubbing

Performers - Jerry, Colin, and Ryan; Jerry's voice done by Wayne
Scene - Lovesick bored housewife Colin is amazed when a male strip-o-gram, played by Jerry Springer, arrives at her door. At that point her husband Ryan arrives home and starts to compete for his wife's attention.
Scenes From a Hat

Performers - Greg and Wayne on one side, Colin and Ryan on the other

-"Unusual things to be coin-operated" - Colin, Ryan, Greg
-"Talent segments we'll never see in the Miss America pageant" - Wayne, Greg, Colin
-"If department store mannequins could talk" - Greg, Colin, Greg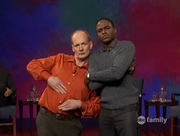 Greatest Hits

Performers - Ryan and Colin introduce songs, Wayne sings
Subject - Sci-fi (a film genre)

Song 1 - Breakdance music video - "Asteroid Boogaloo"
Song 2 - Really fast jitterbug - "Obi Wan Kenobi with the Flowing Brown Robey"
World's Worst

Performers - Greg, Drew, Colin, Ryan
Subject - World's Worst thing to say or do on your first day of prison
Reading the Credits

Performer - Greg
Style - While he's dancing like a monkey
Points
None Awarded this Episode
Winner
Wayne Brady
Time
Make a Monster (entire game) - (3:45)
Make a Monster (song) - (0:53)
Dubbing - (2:04)
Scenes From a Hat - (2:13)
Greatest Hits - (5:57)

GH song 1 - (1:16)
GH song 2 - (1:11)

World's Worst - (1:27)
Recurring Themes
References
Referenced in the Points Comparison
Referenced in Make a Monster
Referenced in Dubbing
Referenced in Scenes From a Hat
Referenced in Greatest Hits
Referenced in World's Worst
Referenced in Credit Reading
Trivial Highlights
This episode is from the same taping as episodes

US-510

,

US-608

and

US-7003

Wayne doesn't say a thing in Scenes From a Hat
A leftover game with Jerry Springer makes it into the episode
This episode incorrectly labeled on

CWSeed

as "Season 6 Episode 8"
Episode Quotables