Performers

Wayne Brady, Kathryn Greenwood, Colin Mochrie, Ryan Stiles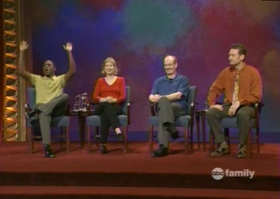 Introductions

"The ace of the accordion," Wayne Brady
"The wonder of the waistline Wurlitzer," Kathy Greenwood
"The prince of the pleated piano," Colin Mochrie
"The superstar of the squeezebox," Ryan Stiles
Games
Let's Make a Date

Kathy - Bachelorette
Wayne - E.T.'s MANIC FRAT BOY BROTHER WHO HAS COME TO EARTH TO PARTY
Colin - THE WORLD'S MOST NERVOUS FIRST-TIME FLIER USING AN AIRPLANE RESTROOM WHEN A VIOLENT STORM HITS
Ryan - TALKING FIERCE BALD EAGLE HATCHING HER EGG COLIN AND PREPARING HIM FOR LIFE OUTSIDE THE NEST
Sound Effects (II)

Performers - Ryan and Colin
Participants - Marcy and Jess
Scene - Two high tech American theives break into Buckingham Palace to steal the Queen of England's jewels. They must escape when they are detected.
Two Line Vocabulary

Scene - Commander Colin leads gung-ho space marines Ryan and Wayne on a mission down to the planet to seek and destroy the dreaded aliens.

Wayne's line 1 - "What's this for?"
Wayne's line 2 - "Do you expect me to believe that?"
Ryan's line 1 - "Why is this happening?"
Ryan's line 2 - "Can I get one of those?"
Party Quirks

Kathy- Host
Wayne - ON A TV GAME SHOW WHERE THE MOSRE AUDIENCE MEMBERS HE GETS TO SWAP CLOTHES WITH EACH OTHER, THE MORE MONEY HE WINS
Colin - EXCITED TEEN AT AN AMUSEMENT PARK WHO THINKS EVERYONE ON THE SHOW IS A THRILL RIDE
Ryan - DOG OBEDIENCE TRAINER WHO THINKS EVERYONE ON THE SHOW IS A MISBEHAVING POOCH
Themed Restaurant

Performers - Drew and Kathy at the table, Ryan and Colin as waiters
Theme - Circus
Reading the Credits

Performers - Everybody
Style - Four commuters squashed together, packed really tight, on a packed subway train
Points
Two Line Vocabulary - 1000 Points to Wayne
Winner
Game Times
Recurring Themes
Points comparisons - "That's right, the points are like a vibrator with dead batteries"

Colin's Baldness

- After Let's Make a Date, Drew mentions if Colin had Ryan's eagle quirk, Colin would've been a Bald Eagle.

Kathy "Loves" Guessing Games

- When Drew transitions Let's Make a Date to the guessing round, he comments "Okay, Kathy. I know you love these guessing games"
Games Debuted
Audience Sound FX (Season Debut)
Two Line Vocabulary (Season Debut)
Themed Restaurant (Season Debut)
References
Referenced in Let's Make A Date
Referenced in Sound FX
Trivial Highlights
This episode is from the same taping as episodes

US-433

,

US-7013

and

US-7023
Episode Quotables