Performers

Brad Sherwood, Wayne Brady, Colin Mochrie, Ryan Stiles
Introductions

"Christmas greetings," Brad Sherwood
"Happy Chanukah," Wayne Brady
"Best of wishes," Colin Mochrie
"Bah humbug," Ryan Stiles
Games
Questions with Wigs

Performers - Wayne and Ryan on one team, Brad and Colin on the other
Scene - An extended family gets together for Christmas dinner.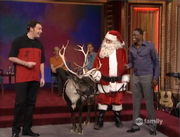 Duet

Performers - Brad and Wayne
Subject - Santa Claus and Donner the reindeer
Style - Swing
Sound Effects (II)

Participants - Nancy and Shauna
Scene - Two doctors at a party on a snowy Christmas Eve suddenly get called to a frantic maternity ward on the other side of town.
Scenes From a Hat

Performers - Brad and Wayne on one side, Ryan and Colin on the other

-"People you don't want to get caught with under the mistletoe" - Colin
-"Celebrities who shouldn't release rap records" - Colin, Brad, Ryan, Wayne, Brad, Colin
-"Thoughts that keep Drew up at night" - Brad
-"What Santa really does when he arrives down your chimney" - Wayne, Ryan, Colin
-"Odd things to have written in icing on a cake" - Colin
Helping Hands

Performers - Drew and Ryan, with Ryan's hands provided by Colin
Scene - Dynamic corporate boss, Ryan, has invited his newest recruit to the company, Drew, over for Christmas dinner.
Reading the Credits

Performers - Everybody, with Santa and Donner
Style - Santa's fighting elves
Points
Winner
Game Times
Recurring Themes
Colin's Baldness - Ryan alludes to Wayne bald cap in Questions, with Wayne then referencing to be Colin in the scene.
References to Looney Tunes - Ryan imitates Pepé Le Pew in Questions
Political Satire - In 'Celebrities who shouldn't release rap records', Brad does Newt Gingrich for a suggestion
References
Referenced in Questions
Referenced in Duet
Referenced on the Commercial Return
Referenced in Scenes From a Hat
Referenced in Helping Hands
Referenced during the Credits
Trivial Highlights
Episode Quotables
Community content is available under
CC-BY-SA
unless otherwise noted.