Performers

Brad Sherwood, Wayne Brady, Colin Mochrie, Ryan Stiles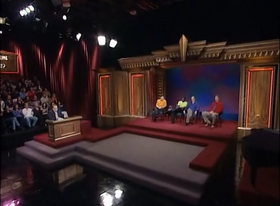 Introductions

"My other car is" Brad Sherwood
"It's eleven o'clock, do you know where Wayne Brady is?"
"If you see him rockin', don't come a-knockin'," Colin Mochrie
"Honk if you're horny," Ryan Stiles
Games
Daytime Talk Show

Performers - Brad hosts, Wayne and Ryan are the guests, Colin is in the audience
Subject - Noah's Ark (Bible story from the old testament)
Sound Effects (I)

Performers - Ryan provides the sounds for Colin
Scene - Colin is Indiana Jones trying to find an ancient treasure in a booby-trapped cave.
Scene to Rap

Performers - Wayne and Brad start, Ryan then Colin enter later
Subject - Trainwreck (kind of disaster you might make a movie about).
Ice Skaters

Performers - Ryan and Colin
Scene - Getting up in the morning.
Improbable Mission

Performers - Brad is the voice on the tape, Ryan and Colin are the agents
Subject - mowing the lawn (everyday activity that gets you out of the house)
Dead Bodies

Performers - Colin controls Ryan, the participant, then Wayne
Participant - Julie
Scene - It's the deleted scene from "Titanic". Jack (Ryan) is drawing Rose (audience member Julie) in the nude when her fiancé Wayne bursts in to announce that they just struck an iceberg.
Questions Only

Performers - Drew and Colin on one side, Wayne and Ryan on the other
Scene - Tension breaks out in the gangster world of 1930s Chicago.
Points
Sound Effects - 1,000 points to Colin for not spitting on the microphone.
Winner
Recurring Themes
Trivial Highlights
Episode Quotables