Performers

Brad Sherwood, Wayne Brady, Colin Mochrie, Ryan Stiles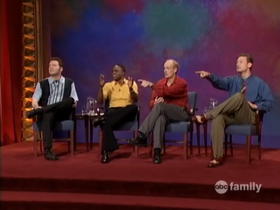 Introductions

"Hears no evil," Brad Sherwood
"Sees no evil," Wayne Brady
"Speaks no evil," Colin Mochrie
"Just a monkey scratching his face," Ryan Stiles
Games
Number of Words

Scene - From Charlie's Angels, Colin is Bosley, and he has been captured by the villianous woman, Wayne. Brad and Ryan are two angels.

Colin - 5 Words
Wayne - 3 Words
Brad - 2 Words
Ryan - 4 Words
Doo Wop

Performers - Brad, Wayne, Colin

Subject: Carol who died in a tragic gardening accident
Scenes From a Hat

Performers - Wayne and Brad on one side, Colin and Ryan on the other

"What Olympic medalists are really thinking when listening to the National Anthem" - Brad
"Times when eenie meanie miney moe is not an appropriate selection method" - Ryan
"Things the pilot wishes he hadn't said when the intercom was on" - Brad, Ryan, Brad, Colin
"Things that shouldn't have ejecter seats" - Wayne
Party Quirks

Brad - Host
Wayne - Fight sequence from "Crouching Tiger, Hidden Dragon"
Colin - Lost bloodhound trying to find his owner from the pair of underwear he found
Ryan - Finalists competing in different rounds of the World's Sexiest Hillbilly Contest
Bartender

Brad - Bartender
Wayne - Celebrating his Wedding
Colin - angry about being an alcoholic
Quick Change

Performers - Brad, Colin, and Ryan in the scene, Drew shouts "change"
Scene - Colin and Brad are dangerous poachers caught by sheriff Ryan.
Reading The Credits

Performers - All Four
Style - All four read the credits as magicians doing their best tricks
Points
Winner
Game Times
Recurring Themes
The Wonderful World of Disney References - Brad during one of the changes in Quick Change said he's using the animals skins for the Disney Parade.
Canada - Ryan during one of the changes in Quick Change says he feels like Charging, "Under the law that Canadians and Americans can't hangout together"
References
Referenced in Number of Words
Referenced in Scenes From a Hat
Referenced in Party Quirks
Referenced in Quick Change
Trivial Highlights
Episode Quotables
Community content is available under
CC-BY-SA
unless otherwise noted.