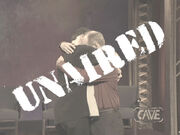 Games and Bits left unaired
Core of The Show
Hollywood Director - Aired US-520

Unaired Styles: Horseplay in The Locker Room, Performers in Stomp, and Famous TV Characters
Sound FX

Performers: Ryan & Colin
Scene: Pirates Ryan and Colin make merry on the deck when they spot a Spanish galleon which holds the kings booty.
Greatest Hits - Aired US-517

Unaired Styles

The Backstreet Boys
Doo Wop
Pearl Jam
Incoherent Blues
Rap
Title Sequence

Performers - Wayne and Brad sing, Colin and Ryan act out
Title - George Washington the Peanut Vendor
Drew Games
Quick Change

Scene: Brad's first day on the job with owner Colin when ruffian Ryan enters to cause trouble. Drew calls Change
Credit Readings
Second reading with Florence Henderson
All Four in a Treehouse
Community content is available under
CC-BY-SA
unless otherwise noted.