Whose Line is it Anyway?" is a product of the extremely successful Hat Trick Production company in the UK. It started as a BBC radio show in 1986, and then translated to Channel 4 television in 1988. In 1989 Hat Trick Productions received a BAFTA for its groundbreaking comedy improvisation show "Whose Line is it Anyway?".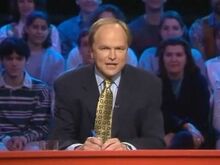 Whose Line remained on Channel 4 until 1998, when in its tenth season, it visited Hollywood to film the last shortened season for Channel 4. While there the show format was sold to ABC and became the first British series to be produced in the US by its parent UK production company. Fall season of 1998, Hat Trick turned its new ABC prime-time show into a hit. For four years Whose Line would have a permanent place in the ABC prime-time line up, only moving from it's regular Thursday 8PM in 2002 when ABC tried it on both Monday and Friday nights.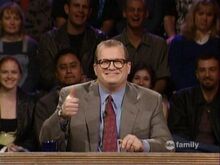 This proved to be too much for the show. In the fall of 2003, "Whose Line is it Anyway?" was not on the prime-time schedule on any station for the first time in 13 years. Starting the 2004 season through the 2006 season The ABC Family Channel started showing "new" edits of old Whose Line tapings. They are basically new episodes but just rehashed from previous years. The show had then gone on a six year hiatus, only to have reruns show up sporadically.



Due to the thousands of online content, the show's popularity had picked up and strengthened like never before; and by early 2013, the decision was made to bring the show back into taping. TheCW picked up the show for a ninth season and a twelve episode count, due to solid ratings the show came back in 2014 for a tenth season with a 24 episode count.