Wayne Alphonso Brady (born 2 June 1972) is an Emmy-winning American television personality, improv comedian and singer who appeared as a regular performer and executive producer on the American version of Whose Line Is It Anyway? and he is the only performer on the show to win an Emmy for his appearances. Prior to that, he was in five episodes of the final season of the British version of the show hosted by Clive Anderson.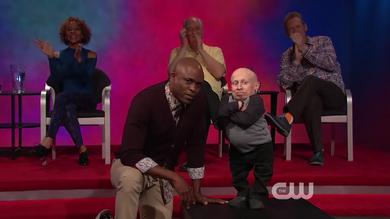 Wayne's greatest talent, however, was his ability to perform dead-on musical impressions of other singers. Drew Carey and Aisha Tyler (in Song Styles), as well as Colin and Ryan (in Greatest Hits and Telethon) were able to give him a wide range of musical styles to sing in, all of which were carried off with great aplomb. Whether it was lying on top of the piano, a la Eartha Kitt; performing a leg-pumping impression of Tina Turner, or even adopting a Santana impression for the song "Invading Peru For The Hell Of It" (to say nothing of his song based entirely around sound effects), Wayne's singing was the major aspect of his appearances on the show.
Another song which he did not use too many words was the song "Pffff." This was performed in the game Greatest Hits, where the topic was about bus drivers. The title was Stiles' imitation of a bus door opening. Wayne's whole song was sound effects of a bus, and was almost wordless besides the words, "Come on, come on!"
As with Brad Sherwood, Jeff Davis, Chip Esten, and Jonathan Mangum, Wayne was always clearly having fun on stage. Many of his songs (including "A Squirrel Chewed My Bag") featured him barely able to keep a straight face - while he was often to be seen laughing uproariously at Ryan and Colin's antics when not involved in their games.
Sometimes in Song Styles, Wayne would crack up. In one of the most infamous episodes with Song Styles, was with female bodybuilder Jayne Trcka, guest starred and Wayne used her name in a song in the style of stadium rock. What makes this episode infamous is that after Trcka did a split, she touched Wayne's crotch.
Wayne's appearances (UK)
Series 10: Episodes 1, 4 and 8

Wayne's appearances (US):
Every episode except:
Season 1: 5, 6, 14, 20
Season 8: 3, 14, 21
Season 12: 11